NUCKED! Misadventures with the IDORA PARK EXPERIENCE NINJAS - Autographed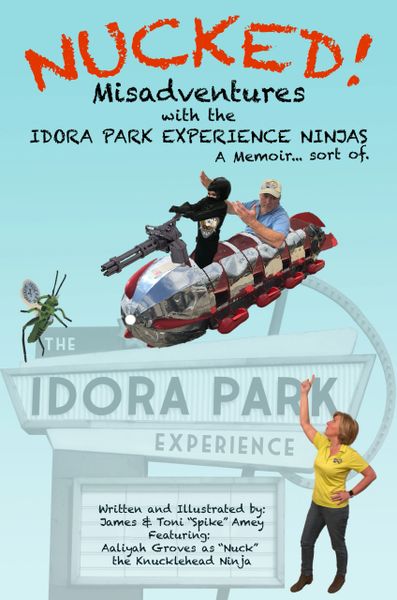 NUCKED! Misadventures with the IDORA PARK EXPERIENCE NINJAS - Autographed
PRAISE FOR "NUCKED! Misadventures with THE IDORA PARK EXPERIENCE NINJAS"
Available in Paperback ($18.99) and Hardback - SOLD OUT ($27.99) 

NUCKED! Misadventures with the IDORA PARK EXPERIENCE NINJAS is a memoir… sort of.

Hang on tight as you join the Ameys and their trusty sidekick, Nuck, a havoc causing 3'3" tall knucklehead ninja, on a series of hilarious, inspiring and sometimes heartbreaking misadventures as the three follow every lead, for better or worse, on their way to creating The Idora Park Experience.
The unlikely trio will have you crying with laughter, cheering in victory, screaming out in warning and on rare occasion cursing in defeat, as they criss cross the country pursuing long lost artifacts from Idora Park, a beloved amusement park in Youngstown, Ohio, that died decades ago as a result of a tragic fire and the dying steel industry.
In NUCKED! you'll learn the answers to the three questions the Ameys hear most often: How did you get started doing this? How did you get all this stuff? Are you nuts?
Well, that last one, they leave for you to decide.