LIMITED! The Wildcat Edition of the "LOST IDORA PARK" Ornament Collection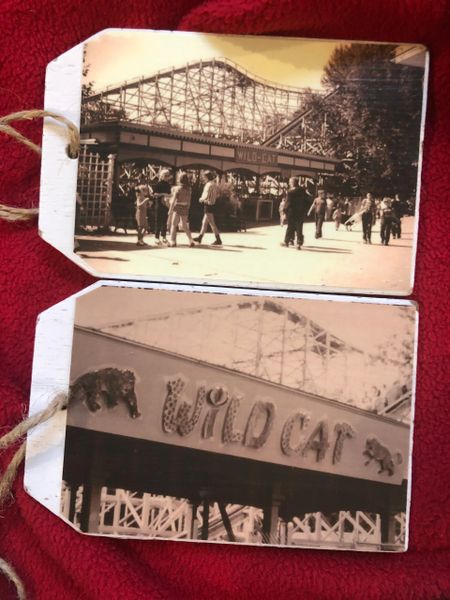 LIMITED! The Wildcat Edition of the "LOST IDORA PARK" Ornament Collection
THIS IS A LIMITED EDITION - ONCE THEY ARE GONE, THEY ARE GONE. Don't delay in placing your order.

The Wildcat Edition of The Lost Idora Park Christmas Ornament Collection

Limited Edition: Childhood memories are captured forever in these ornaments created with photos from The Idora Park Experience collection many of which are included in our book "LOST IDORA PARK".  
A set of six (6) double sided wooden ornaments with a different image on each side for a total of twelve (12) images from The Idora Park Experience collection. 
Antique and rustic in appearance, these white wooden ornaments have an antique coloring photo and rough matte finish surface.
The ornaments measure approximately 2"x 3.5" with a twine string for hanging from your favorite tree.
The Wildcat Edition Includes:
1. Wildcat Sign/Wildcat Coaster
2. Rocket Ship/ French Fry Stand
3. Hooterville Highway/Hooterville Highway Car
4. Arcade/Miniature Golf
5. WHOT David Cassidy/WHOT Bobby Sherman
6. Parkview Road Sign/Trolley Scroll
CLICK THIS LINK TO Purchase BOTH The Wildcat and Jack Rabbit Editions for a complete set of twelve (12) ornaments with a total of twenty-four (24) images from Idora Park AND SAVE $5.00.
https://theidoraparkexperience.com/products/buy-both-editions-of-ornaments