"Idora Park: The Last Ride of Summer" - Autographed by Author Rick Shale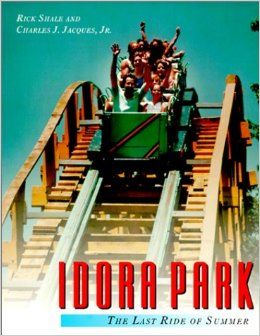 "Idora Park: The Last Ride of Summer" - Autographed by Author Rick Shale
PLEASE NOTE
: Orders received 5/21-6/9 will be shipped on 6/10
IDORA PARK  The Last Ride of Summer 

 a
utographed by co-author, Rick Shale. 
The illustrated and definitive book on our beloved Idora Park of Youngstown Ohio. 1899-1984. 
Learn the secrets you've never known about Idora Park!  
For example, did you know, there were two sisters who drown on the same day in the Idora Park swimming pool?
 Or, that the 18 year old operator of the live-fire .22 caliber shooting gallery was shot and killed at the shooting gallery and the killer has never been identified?
How about this fact - there was a death on the Wildcat roller coaster and a death on the Jack Rabbit roller coaster!  There was a manager killed on another Idora Park roller coaster, but it wasn't the Wildcat, Jack Rabbit, Wild Maus, or the Baby Wildcat in Kiddieland!  Give up?  Buy the book - that fact and many more amazing stories will be found.  Oh, you know about the robbery, right?  Psst - buy the book, read all about it!  
Learn about these stories and more in this iconic book. See scenes and photos you've never before seen. This is a great gift for yourself or someone you know who loved Idora Park. 
Again, this is a limited stock item.  Hurry and order now before the book is sold out.